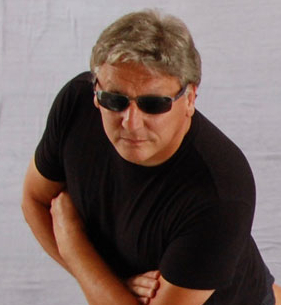 Patrick Dunning showed his relentless creativity from his youth. Raised in a working-class neighborhood in Dublin, Ireland, curious about everything that lay in his path, Patrick could not be contained in a classroom. His education came as much from the lively streets of Ireland's capital city, with frequent excursions to its art galleries.

In his early adult years, he established himself as a major contributor to Dublin's visual arts, doing large scale installations, bold abstract paintings, and on occasion even the beneficiary of a major commission. Intertwined was his passion for travel. Patrick developed a love for the sea and explored the world as a merchant marine.

Artistic talent in the Dunning family was shared by Patrick's brother, Brian (whose talents as a composer and flutist enrich The Signature Project.) A member of the seminal Celtic band, Nightnoise, Brian had opportunities to tour the U.S., and younger Patrick took advantage of these journeys to visit America. He immediately fell in love with its incredible size and diversity.

When he settled in Portland, Patrick began to develop The Signature Project. It began humbly, with sections of the giant mural being displayed at art fairs where the first people signed their names. Soon Patrick found himself Artist in Residence at the Oregon Museum of Science and Industry (OMSI), where the audience for his vision grew, and so did his concept to create a performance which had the same depth and variety as the signatures adorning the canvas.

The success of the performance speaks for itself. Patrick has driven across the continent over 85 times, performing in 45 different states. Each performance, regardless of where it takes place, feels as if it's being given for the first time. His impact on audiences is all the more amazing when one takes into consideration how each venue is unique, requiring him to adapt each time to a different theatrical environment.

And adapt he does! Whether it's a private corporate event for Proctor and Gamble or Microsoft or an elementary school cafeteria in New Mexico or Chicago, a convention center in Long Beach or Seattle, a university or prep school state-of-the art theatre in Los Angeles or Boston, the results are the same—audiences are thrilled with the joy of an experience of a lifetime.

And most recently, Patrick affirmed the infectious appeal of The Signature Project with a critically acclaimed off-Broadway run. To say he's done it all is not far from the truth.